First ride free up to $20
Use Code | PRUCENTER
Uber Zone
Uber is the official rideshare partner of Prudential Center. Getting to the action is now easier than ever with our designated pickup and drop-off area just east of Investors Bank Tower. When heading to Prudential Center, ask your driver to follow in-app navigation directions and the signs to the drop-off area on Edison Place, between Mulberry Street and McCarter Highway.
Standard Zone
Market Street at Championship Plaza is the official drop off and pick up area of patrons for Prudential Center events. Specifically the southbound lane of Market Street alongside Championship Plaza and Dinosaur Bar-B-Que.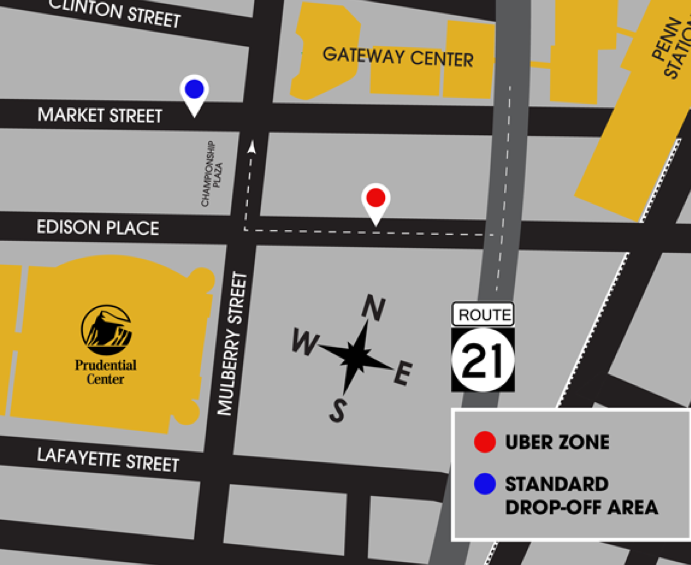 Get Home Safe
In addition to having no problems getting here to Prudential Center, Plymouth Rock Assurance wants to make sure you #Get Home Safe®! Plymouth Rock Assurance wants to help prevent accidents, not just respond after they happen. That's why with a Plymouth Rock auto policy, we offer Get Home Safe® as a unique benefit at no additional charge. If you just don't feel safe operating your vehicle, you don't have to get behind the wheel. Your taxi fare is on us.
©2007-2018 Prudential Center. All Rights Reserved.
The Prudential Center trademark and logos are used under license from The Prudential Insurance Company of America, a subsidiary of Prudential Financial, Inc., headquartered in the USA, neither of which is affiliated with Prudential plc, a company headquartered in the United Kingdom.