Arena Policy
All guests are subject to a security screening prior to entering Prudential Center. For safety reasons the arena prohibits certain items from entering facility. Guests in possession of prohibited items will be denied entry or the items will be confiscated and not returned to the guest. In the event an illegal item is discovered, security staff will immediately notify the local law enforcement personnel detailed to the event. If a guest is found to have a prohibited item while inside the arena the item will be confiscated and the guest is subject to an official ejection.
Prohibited Items Include
Weapons (e.g. ,Firearms, Guns, Knives, Bats, Brass Knuckles, Black Jacks, Billy Clubs, Night Sticks, Spikes, Handcuffs, Stun Guns, etc.)
All Electronic Devices with the Exception of Cell Phones and Non-Professional Cameras
Aerosol Cans, Self Defense Sprays, Hazardous Substances and Chemicals (e.g., Pepper Spray, Mace Tear Gas, Lighter Fluid)
Tools, Razor Blades, Box Cutters and Scissors
Animals / Pets (except service animals)
Audio / Video Equipment
Projectiles (e.g., Frisbees, Balloons and Beach Balls)
Backpacks of Any Size
Bags or Purses Over 12"x14"Inches in Size (with the exception of childcare or medical bags)
Cans, Bottles, Glass or Other Beverage Containers
Chains, Studded Bracelets, etc.
Coolers or Ice Chests
Hard Sided Bags of Any Size
Alcohol, Illegal Drugs or Paraphernalia
Laser Pens and Pointers
Noisemaking Devices (e.g., Whistles, Air Horns, Drums, Horns, Vuvuzelas)
Outside Food and Beverage
Professional Photography Equipment
Drones (UAS Unmanned Aircraft Systems) or other aircraft
Explosives, Fireworks and Ammunition
Selfie Sticks, Tripods and GoPros
Poles to Display Banners, Flags, etc.
Signs with wires, lights, and/or batteries
Un-approved Pamphlets, Handouts, Advertisements, etc.
Skateboards, Hoverboards and/or Rollerblades
Packages of Any Kind
Any Other Item Deemed to be Inappropriate or Dangerous by Prudential Center Management
*This list is subject to change at the discretion of Prudential Center Management.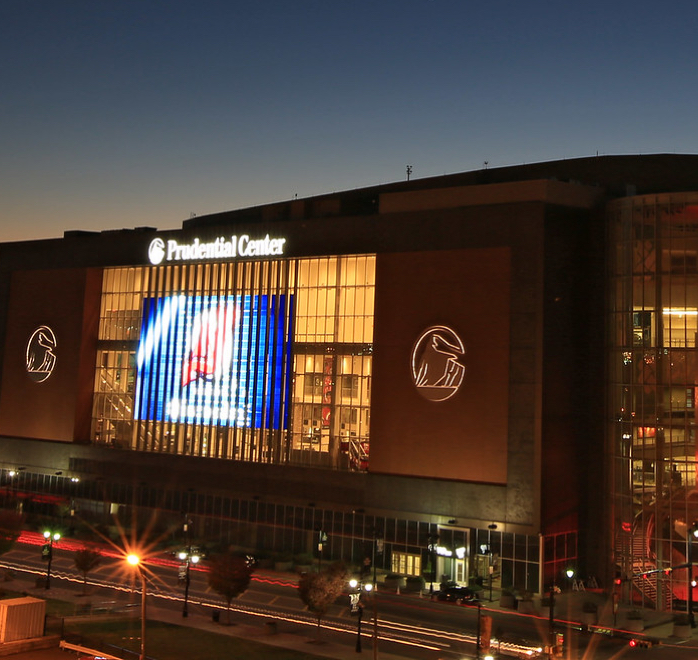 ©2007-2023 Prudential Center. All Rights Reserved.
The Prudential Center trademark and logos are used under license from The Prudential Insurance Company of America, a subsidiary of Prudential Financial, Inc., headquartered in the USA, neither of which is affiliated with Prudential plc, a company headquartered in the United Kingdom.
What can we help you find?
What can we help you find?